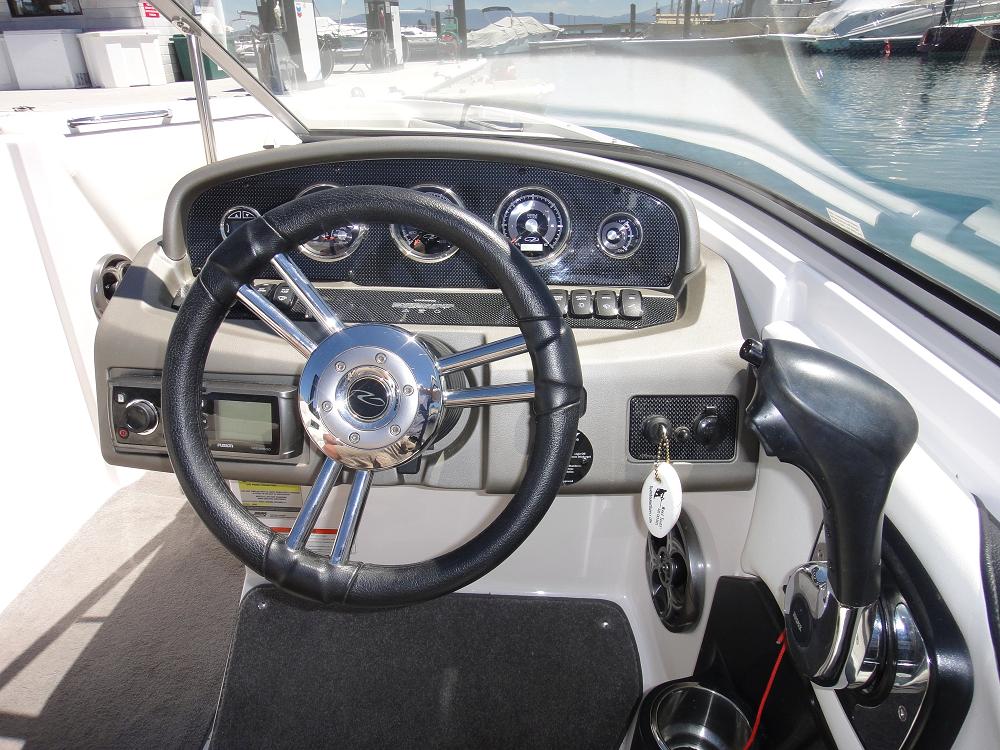 Is prior boat operating experience required?
We do require that you have prior boat operating experience to rent a boat from us. The primary boat operator will sign a legal contract stating he/she has necessary prior experience (i.e. has been the primary operator and driver of a boat). If you do not have prior experience, you can visit 
Boatus.org
 to take a safety course, or get a boating license at 
www.californiaboatercard.com
. Upon completion of the course, you will receive an e-mail with a certificate. You can show us the certificate via your phone or print it out and bring that with you to your reservation.
Are dogs allowed?
Yes, we now allow dogs on our boats. There is a $35 fee per pet. The fee is non-refundable. Boats have weight limits as well as person limits so for larger breeds we may have to count the dog as a 'person'.
What comes with the boat?
All of our boats come with AM/FM Radios which have MP3/iDevice hookup via an auxiliary cable. They also have all required safety equipment, a cooler and a bimini for shade.
Is there a weight limit on the boats?
The weight limit for the 20′ boats is 1300 lbs and the weight limit for the 23′ boats is 1724 lbs. Please note that fuel(~260 lbs for our boats), coolers, food & drink, water-toys, pets and people all count towards the weight limit.
Do you provide captains?
We do not provide captains for our boats.
Is fuel included?
Fuel is not included in our rentals. You leave with a full tank and when you return from your rental, we top off the tank so you only pay for what you used.
Do you provide watertoys?
We do not provide watertoys. However, you can rent any watertoys or wetsuits from 
Tahoe Marine Supply
 which is located next door to us. Their phone number is 
530.583.0925
.
Can we beach the boat or do you provide anchors?
We do not allow you to beach the boat, this is to keep the boats in nice shape as well as to help prevent damage to the engine. We do not provide anchors for safety reasons, as well as to help prevent any boat damage.
Do you rent Jet skis?
We do not rent Jet skis.
Are reservations required?
We can do reservations 3 months in advance. We recommend reservations but they are not required. During holidays, weekends, July and August, we STRONGLY recommend reservations. June and September, we typically have availability during mid-week but weekends can be busy.
Do kids count as a full person?
Yes. Coast Guard regulations state that a body is a body, despite their age, weight or size. We do not have an age restriction on boat passengers and we do have infant-sized life jackets.
How old do you have to be to rent a boat?
In order to rent a boat, the primary operator must be at least 18 years old.
Is a boater's license required?
We do not require a boater's license but we do require prior boat operating experience. California now requires boating licensure; however rental boat customers are not required to have one under the new state law. We encourage all of our customers to pursue a boating license, and more information can be found at
www.californiaboatercard.com
Will you deliver a boat to me?
No. We do not deliver boats around the lake. We require that you pickup and return our boats to the Marina, during our normal business hours.
Do you allow over-night/multi-day rentals?
No. We do not do over-night/multi-day rentals. We found that most people who rent for more than 2 days will only use the boat 3-4 hours per day. It then becomes cheaper to rent the boat for specific hours everyday instead of for a full week/multi-day rate.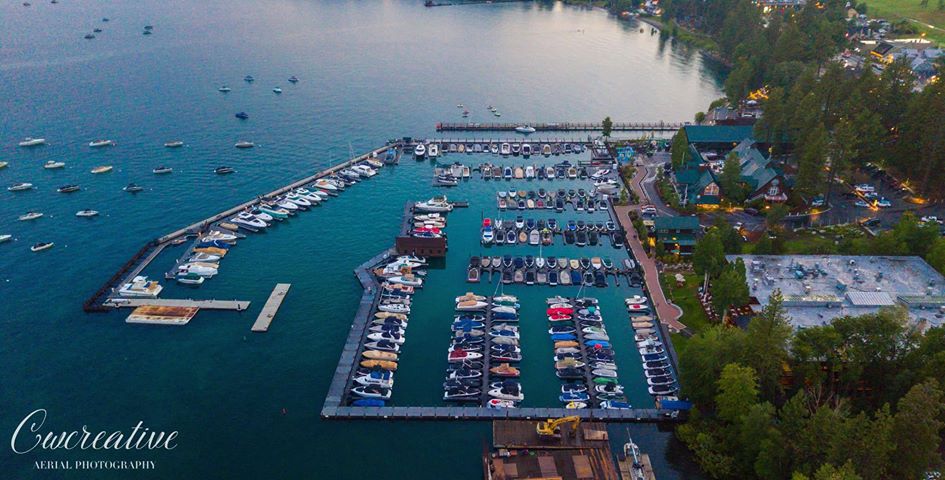 What is a buoy and slip?
Buoys and slips can also be known as moorings and berths depending on your region. Buoys/moorings are floats that you hook up to and are anchored to the bottom of the lake. They require a kayak, canoe, dingy, swimming, or buoy service access. Slips/berths are closer to the shore and have direct access via docks or walkways, they are parking spaces for your boat.
What is the difference between the private side and the expansion side?
The private side slips are all privetly owned, they are bought and sold as real estate. There is a slip owners association fee (the owner pays, not the renter) which helps cover the maintenance and electricity for the slips. Tahoe City Marina acts as a rental manager for slip owners who wish to rent out their slips. The slips are behind locked gates, have access to electricty, most have a dock box and for a fee, wireless internet. A pump-out station and water are available on our fuel dock.
The expansion slips are all owned by Tahoe City Marina and are leased out to renters. Most slips on the expansion side are annual rentals but they also have the option to sub-lease (through TCM) their slip if they will not be using it. Amenities included on the expansion side are locked gates, electricity, dock boxes and free wireless internet with no slip owners association fee. Our larger slips have easy access to pump-out stations and water from their slip while smaller boats will need to go to our fuel dock.
Why is the expansion side more expensive?
As mentioned above, there are a few differences between the two. The main cost difference is the private side rates are based on a seasonal rental and the expansion rates are based on an annual rental.
Can I keep my boat in the water year-round?
You can keep your boat in the water year-round, however, there are a few requirements. We require that all inboard and inboard-outboard (I/O) boats be winterized. Outboard engines typically do not need to be winterized but a heater is recommended, especially if you have a water system. All boats must have a winter cover to shed snow or be shrink-wrapped.
Is there a waitlist for a buoy or slip?
We have a waitlist for both slip and buoy season long and short term rentals. The waitlist is only for one season and you need to contact us each year for any subsequent seasons.
How long is the waitlist?
The length of the waitlist depends on the size of your boat and what you're looking for. Seasonal rental availability varies from year to year and we cannot predict what we may have open up. For short term rentals during July 4th week and weekends, our waitlist can be upwards of 20 people but end of September dates may only be 1 or 2 people. When you know your dates, 
call us
 or 
e-mail
 us and we will add your name to the waitlist. If we have an opening, we will call or e-mail you back to begin the reservation process.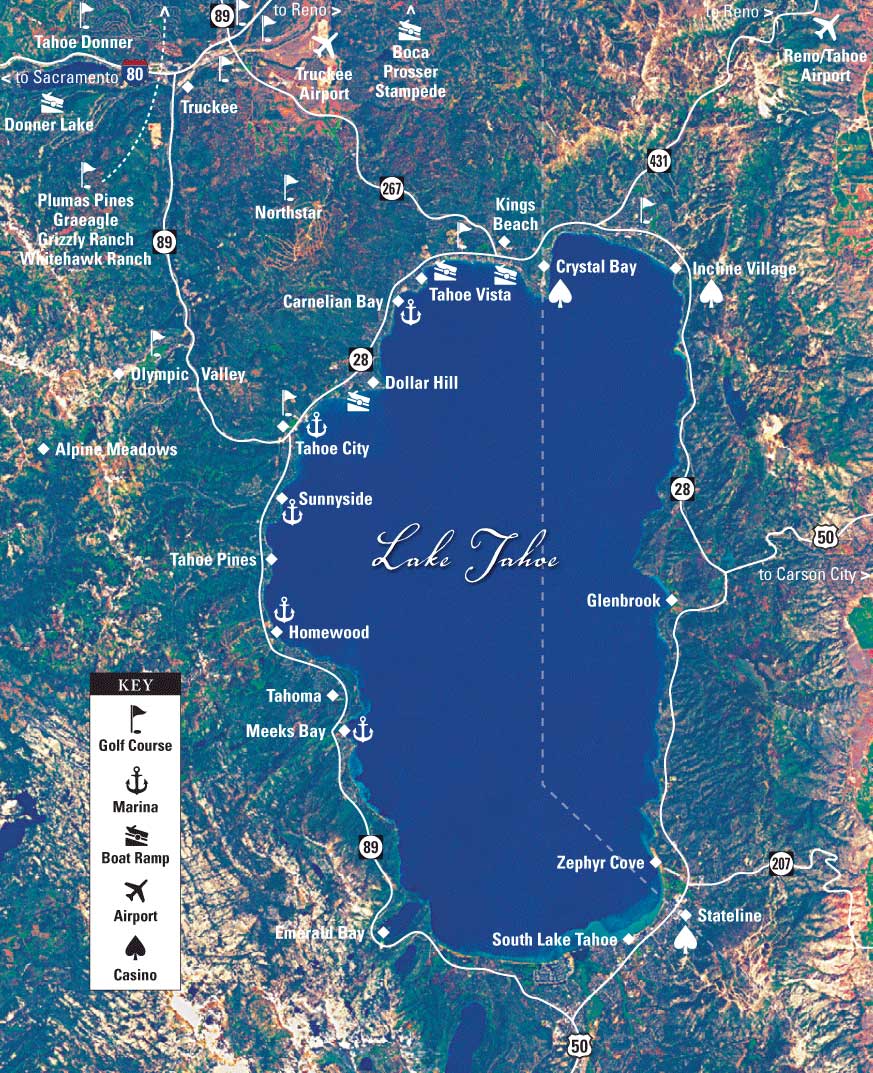 How big is Lake Tahoe?
Lake Tahoe is 12 miles wide and 22 miles long, with a total of 72 miles of shoreline.
How deep is Lake Tahoe?
The average depth of the lake is 1000′ and at its deepest it is 1,645′. Tahoe is the 2nd deepest lake in the US (Crater Lake is 1st) and the 11th deepest in the world.
How cold/warm is the water?
Tahoe's average water temperature is 42.1 degrees. The average surface temperature (top 2 feet) is 51.9 degrees, however, during late July through mid August, the surface temperature will average 64.9 degrees.
What is the water level?
Tahoe's water level fluctuates depending on the season. The highest point usually occurs in July and the lowest point usually occurs in December. Things like the amount of water let out of the dam, evaporation, snow melt and rain all play a part in Tahoe's water level. The natural rim is 6,221′ and the highest legal limit is 6,229.1′. For up-to-date lake levels, you can visit the 
USGS
 website.